Instructions to Make Payments Through the Tenant Web Access for Ithaca Renting Company
1. Log on to Ithaca Renting Tenant Web Access by clicking the following link: https://irc.twa.rentmanager.com or click on Tenant Login on the upper right corner of this website.
2. There are 3 ways to set up or access your account, which are as follows:
To set up the account yourself, you will need your account number and the email you provided to the leasing staff on your Resident Information Form. Please ask the rental office for your account number or contact Dawn at dawn@ithacarenting.com or 607-273-9462 ext. 8300.
If you applied for your apartment online, you would simply need to use the same login info you used for the online application.
If you have received an e-mail from our office to set up your payment account, it would look as follows: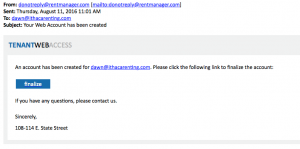 Click on the "Finalize" button in the email and create a password.
You should then receive the following message and login screen.
 ⇒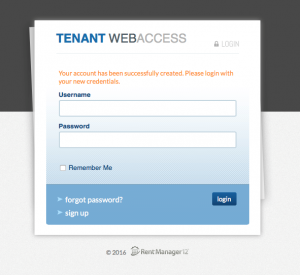 3. Once you have logged into your account it will look like this:

*Note:  Please be sure to read the "Message" section regarding the fees that will be charged to your account for each payment. We do not accept Discover or American Express.
4. Click on the MAKE A PAYMENT tab to process your payment. If you are pre-paying on your account, the Open Charge will be zero but it is still ok to make your payment.
Should you have any questions there is a hotline phone number that is available at any time 1-866-729-5327